Happy Birthday Foxey!
Well for friday anyway! So last night we decided to go out and help Vicki (aka Foxey...and now i know why eeep!) celebrate her birthday. It started with drinks at the backhouse penthouse, which Vicki, Nat, Mel and myself spent yesterday afternoon getting from various shops (it's amazing how far £35 can go!) Also Mel brought a little (understatement) surpise with her for us all, which caused great amusement to everyone (there's a photo of it, don't worry) Drinking started at 8, we then went to Absolute and then onto Hush, which proved very interesting. Have to say i was quite drunk near the start but at the end i wasn't so much. Ended up leaving with Bry, Mike and Pete at about 2, everyone else left at 2:30, so i didn't miss much. Anyway, here are the long awaited photos for you all to peruse at your pleasure: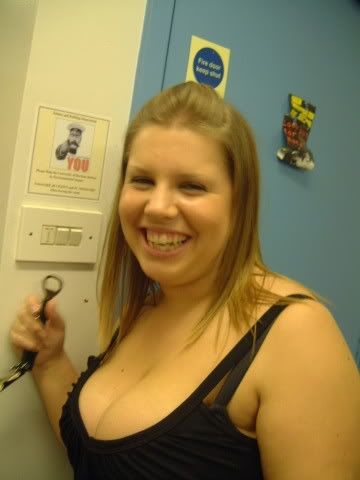 The Birthday Girl!
Just some of the alcohol, you can see the Raki in the background to the right of Vicki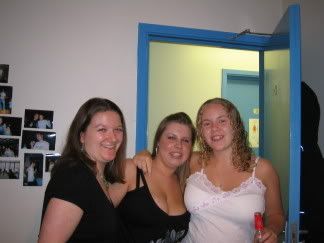 Me, Vicki and Nat in Mike's room after going to see what he was doing with Vicki.
Paul and Pete on the sofa in Hush. (Paul ended up naked from the waist down when Foxey decided it would be fun to pull his extremely loose jeans down. Luckily for him we were dacing upstairs in Hush at that point, right against the back wall, so no one saw)
Liz and Nat in Hush (I think one of them has had too much to drink, but which one?)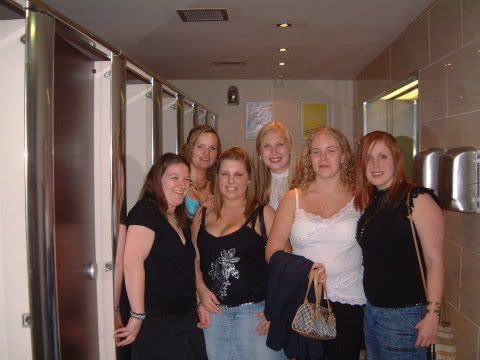 Me, Annie, Vicki, Mel, Nat and Sarah in the toilets at Hush. I don't look that fat usually but it's because there are mirrors all over the place!
Bryan and his burger, the ultimate lovers.
Mike's lovely photo of me in Absolute. According to him i look like the devil here because of my red and black eyes. You decide.
Last but not least, Mel's "little" surprise. A 3 litre bottle of smirnoff. It went missing temporarily, while we were all in the kitchen. I went and asked Bry if he knew where it was, and he said no. Then on the way out someone noticed that it was actually propping his door open. Neither of us had noticed it and he couldn't remember moving it. I think we were both pretty tipsy at that point.
posted by Em @ 2:37:00 pm